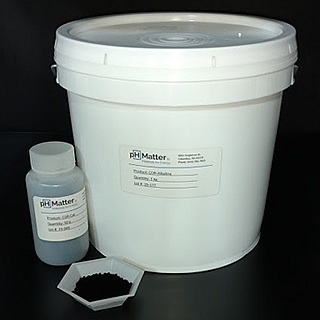 COR-Cat™ PEM Fuel Cell Catalysts: pH Matter's line of COR-Cat™ electro-catalyst products deliver state-of-the-art PGM utilization and extended fuel cell durability. Proprietary carbon supports stabilize low-loading PGMs and our tunable hydrophobicity enables performance optimization in demanding high-current PEM fuel cell environments. Currently in pre-production and available in evaluation quantities. Contact Us for more information.
COR-Alkaline™ Metal Air Catalysts: pH Matter's line of COR-Alkaline™ products are high-performing PGM-free electro-catalysts for metal-air battery and alkaline fuel cell applications. These tailorable materials allow catalyst porosity, hydrophobicity, and durability to be optimized for the application. Available in commercial scale quantities.
Custom Manufacturing – We are currently offering this material for custom manufacturing. Please contact us for more information.