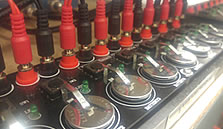 COR-Alkaline™ Metal Air Catalysts: pH Matter's line of COR-Alkaline™ products are high performing PGM free electro-catalysts for metal-air battery and alkaline fuel cell applications. These tailorable materials allow for catalyst porosity, hydrophobicity, and durability to be optimized for the application. Available in commercial-scale quantities.
Si-LOR™ Li-ion Anode Materials: Si-LOR™ high capacity silicon anode materials deliver 2X capacity improvement and drop in replacement for traditional graphite anode materials. Our unique carbon composite enables fast charging in high loading electrode designs required for next generation high-energy LIB cells.
Please contact us for more information.