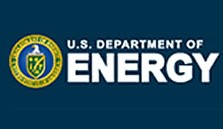 Columbus, OH - April 15, 2016. - pH Matter, LLC., has been awarded a DOE Phase II Small Business Innovation Research (SBIR) Contract to develop a regenerative fuel cell system. A regenerative fuel cell stores energy by electrolyzing water and produces energy by recombining the hydrogen and oxygen electro-chemically. As electrical loads on the grid change throughout the day, the system could store energy when demand is low and supply ...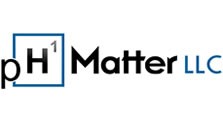 pH Matter, LLC has begun construction of a commercial-scale COR catalyst production system. The new system represents a 20X increase over the company's previous "pilot-scale" capacity, and will allow for delivery of up to 400 kilograms per month of its line of COR catalysts. The catalyst materials are used in electrodes for metal-air batteries, fuel cells, sensors, and electrolysis cells. The COR catalyst materials have competitive performance compared to precious metal ...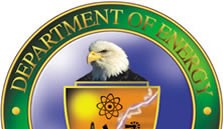 pH Matter, LLC is proud to announce that it has been awarded a small business innovative research (SBIR) project from the Department of Energy. The project will focus on development of electrodes for a reversible fuel cell. Fuel cells allow energy to be generated from hydrogen and oxygen, with water being the only product. A reversible fuel cell can also store energy by using electricity ...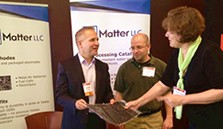 pH Matter exhibited its line of catalyst technologies at the Ohio Fuel Cell Coalition (OFCC) annual conference in Elyria, OH this past June 10th. Presentations at the conference indicated accelerated commercialization efforts, particularly for mobile power applications, within the PEM fuel cell industry. Accordingly, there continues to be growing demand for alternative air cathode catalysts that do not require high loadings of precious metals. pH Matter is addressing this need ...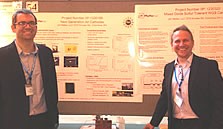 pH Matter, LLC presented performance results and commercialization progress for its catalyst technologies, developed with support from the National Science Foundation (NSF), at the NSF SBIR conference in Baltimore, MD on May 12th. The company is developing non-precious metal electro-catalyst materials for air cathodes, and sulfur-tolerant water-gas-shift catalysts for fuel processing.  pH Matter would like to thank NSF for its support in commercializing these technologies.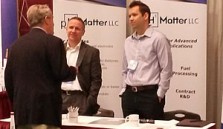 pH Matter unveils new air cathode product at the Battery Seminar and Exposition.  Fort Lauderdale, FL. pH Matter unveiled its new gas diffusion electrode (GDE) product, called the "COR-GDE", at the Battery Seminar and Exposition in Fort Lauderdale, FL this week.  The GDE is designed for use in air cathodes.  The GDE is based on its proprietary non-precious metal COR catalyst.  Vice President of Business ...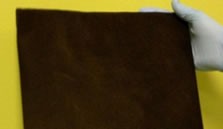 pH Matter, LLC has received Phase II funding through the NSF SBIR program  to accelerate commercialization of its air cathode technology. The funding will be used to develop new products, in coordination with the company's customers and partners, based on pH Matter's proprietary Carbon-based Oxygen Reduction (COR) catalyst materials. The materials are finding uses in a range of air cathode applications, including metal-air batteries, fuel cells, and electrolysis equipment. This phase of funding coincides ...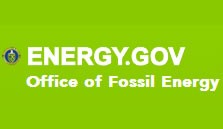 pH Matter is participating in a U.S. Office of Naval Research project focused on developing a power system for unmanned undersea vehicles (UUVs).  The goal of the project is to demonstrate a fuel cell powered energy section for UUVs with improved energy density compared to currently available technology.  More information about the effort can be read in a Department of Energy press release here,  http://www.fossil.energy.gov/news/techlines/2013/13007-SOFC_Being_Adapted_by_Navy.html.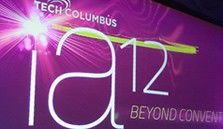 Semi-Finalists Announced for 2012 TechColumbus Innovation Awards On Thursday, February 7, 2013 the annual TechColumbus Innovation Awards will showcase Central Ohio's many achievements by honoring its top innovators. It is a night of networking, prestige, and celebration. Winners in 12 award categories will be announced to an audience of 1,100+ attendees. pHMatter is proud to announce they are a Semi-Finalist in the Outstanding Startup Business category. "It is an honor to be a Semi-Finalist for this award and ...
pH Matter, LLC to Present at the Advanced Energy B2B Conference and Expo pH Matter, LLC will be presenting at the Advanced Energy B2B Conference at the Greater Columbus Convention Center on Tuesday, October 30th.  The event is the largest conference and exhibition for the companies, technologies and researchers driving progress in advanced energy in Ohio. The state-wide event is an ideal forum to share ideas for developing the next generation of energy technologies, as well as capitalizing on common synergies ...