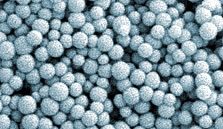 pH Matter, LLC ("the company") is pleased to announce initiation of a $1 million product development project funded by the U.S. Department of Energy for engineered materials for lithium ion battery anodes.  Lithium ion batteries are being increasingly adopted for automotive power applications; however, the lithium capacity of the negative electrode (anode) limits the amount of energy these batteries can store.  Improvements to the anode would increase the energy density and lower the battery cost.  For electric vehicles, ...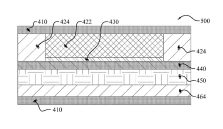 Columbus, Ohio, October 24, 2018 - pH Matter was recently awarded a U.S. patent for the design of an ethanol-powered fuel cell system.  This fuel cell design is also known as the "liquid fuel battery" because of its similarity to a metal-air battery.  Metal-air batteries are commonly used in hearing aids and other applications that require high energy density.  However, unlike metal-air batteries, the liquid fuel battery can be recharged by filling it with fresh ethanol.  The ...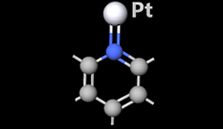 Columbus, Ohio, June 8, 2018 — pH Matter announced today that it has been awarded over $1 million in funding from the U.S. Department of Energy (DOE) for the continued development of its COR-Cat™ high-activity catalyst materials for proton exchange membrane (PEM) fuel cells. A key to the cost and lifetime of PEM fuel cells is the performance of materials in the cathode, particularly the catalyst layer. pH Matter's new catalyst material retains activity following lifetime durability demonstrations ...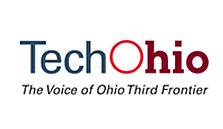 Paul Matter, CEO and co-founder of pH Matter LLC, met with TechOhio to discuss the company's synthetic carbon technologies. TechOhio is a collaborative of government and industry leaders to promote high technology businesses in Ohio. In the article prepared by TechOhio, Paul discusses the advantages of pH Matter's synthetic carbon and the role it plays in improving the performance of fuel cells and the energy storage capacity of lithium based batteries. To read the whole article and watch the video ...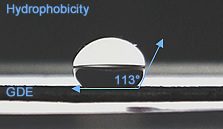 pH Matter, LLC is introducing new multi-functional carbon-based materials into the Proton Exchange Membrane (PEM) fuel cell market.  PEM fuel cells are being increasingly adopted for automotive power, materials handling (fork lifts), bus fleets, and stationary power applications.  pH Matter has been a leader in development of new materials for electrochemical applications, with particular expertise in carbon-based electrodes for fuel cells, batteries, and electrolysis.  The company is now developing carbon-based materials with enhanced properties for use in PEM ...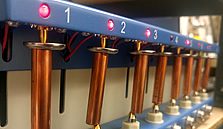 pH Matter, LLC is developing engineered silicon for use in lithium-ion battery anodes.  Lithium ion batteries are an important form of energy storage for portable electronics.  To further expand electric vehicle adoption, batteries with higher energy density and lower cost are required.  Silicon-based anodes can boost the energy a battery stores by greater than 60% without a significant increase in size or cost, but currently these electrodes are not sufficiently durable for commercial adoption.  pH Matter has extensive expertise in ...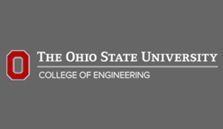 pH Matter, LLC was recently nominated by Ohio State's Engineering Career Services (ECS) for 2017 Employer of the Year.  The award is based on feedback from engineering co-op interns regarding their employment experience at the company, and the company's involvement in ECS sponsored events.  Other nominees this year included Anheiser-Busch, CoverMyMeds, Delta Airlines, Emerson Commercial and Residential Solutions, GE Appliances, J.M. Smucker Company, L-Oreal, and Marathon Petroleum.  pH Matter has employed a number of engineering interns from Ohio State over ...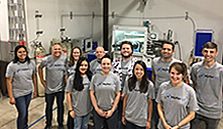 pH Matter, LLC is pleased to announce its expansion into a new manufacturing facility located in northern Columbus (Address: 6655 Singletree Dr., Columbus, Ohio, 43229).  The facility will be used for most day-to-day operations, including manufacturing of its engineered electrode components for fuel cells and batteries, and larger scale testing of components for fuel cells and batteries.  In the future, the new facility will permit further scale-up of pH Matter's component manufacturing.  The new primary telephone for business operations will ...
To support long-duration manned missions beyond low-earth orbit, such as missions to mars, spacecraft life-support systems need to recover oxygen from carbon dioxide exhaled by the crew.  Consequently, NASA scientists are developing systems that can convert carbon dioxide into oxygen and solid carbon.  An important step in those reactor systems is catalyst assisted conversion of carbon-containing gas streams into solid carbon.  pH Matter specializes in research and development of products related to carbon nano-materials.  The company has also ...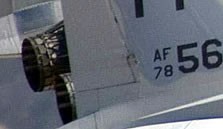 pH Matter, LLC is pleased to announce that the company has received a Phase II SBIR award from the U.S. Air Force to develop a portable fuel cell for the Air Force's Non-Destructive Inspection (NDI) equipment.  The portable 25-Watt power source will enable the Air Force to use the equipment for extended time periods and in areas where electricity may not be readily available. The power source is based on a patent pending direct alcohol fuel cell that ...